The Race
Do you love donuts? Well, why donut you join us at the Stan's Donut 5K & Kids Dash on Saturday, August 11, 2018. Enjoy donuts throughout the course and at the finish line. 
Packet Pick-Up & Registration
Pre-Race Packet Pick-Up is at Fleet Feet Sports
Thursday, August 9 - Next Door to Fleet Feet Old Town (1712 N Wells St, Chicago, IL 60614)
Friday, August 10 - Next Door to Fleet Feet Old Town (1712 N Wells St, Chicago, IL 60614)

Packet pick up location is 1712 N Wells, next door to Fleet Feet Old Town. Once your grab your goodie bag, swing into Fleet Feet and experience the new FIT ID 3D foot scanning technology and learn exactly what your foot shape is and the best footwear choices are for you.
Race Day Packet pick-up will be available at Montrose Harbor under the White Tents:
Race Day, August 11:

5K Run Pick Up: 6:30 - 7:45 AM
5K Walk Pick Up: 6:30 - 8:45 AM
Kids Dash Pick Up: 6:30 - 10:15 AM
Start Times
5K RUN: 8:00 a.m.
5K WALK: 9:00 a.m.
Kids Dash: 10:30 a.m.
5K Swag
All 5K participants will receive:
A Dri-Fit Shirt
A Finisher Medal, in the shape of a donut, of course. 😉
and a Stan's Donut at the Finish Line (and on the course)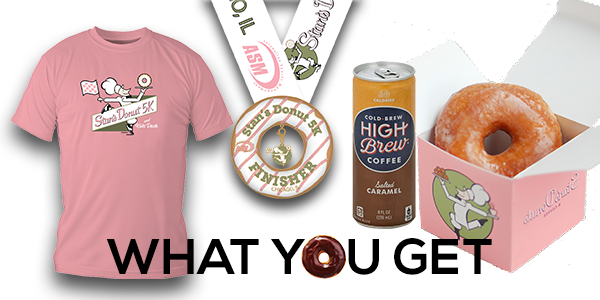 Shirt Sizing Chart: CLICK HERE
Kids Dash
The 2018 Kids Dash is sponsored by Ultimate Ninjas!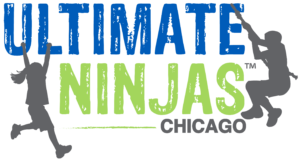 All Kids Dash Participants will receive: 
Youth Shirt
Race Bib
Stan's Donut at the Finish Line
New for 2018: FINISHER MEDAL!
Meet and Greet with Ultimate Ninja Warriors!
Ages: Kids Dash is for kids 12 years and younger. 
Kids Dash Distance: 1/2 Mile
*Shirt and Medal Images Coming Soon!
Virtual 5K
Can't make it on race day? No worries! You can run it virtually! Run a 5k, by yourself or with a large group, in the location of your choice, at any time of the day.
Same race. Same swag. Just Your Location!
How It Works
Register For the Virtual Donut 5k® 5K – DOMESTIC ONLY.
You will receive your swag (Shirt, Bib, Medal, and Donut Card) in the mail
Run/Walk your race on any day.
If you want a PDF Certificate of Completion emailed please submit your Name, Time, date of completion, and any photos to events@adrenalinespecialevents.com
Enjoy the satisfaction of your success and being a part of the Virtual Stan's Donut 5k!
*Please note if you purchase a virtual entry it will not be valid at Montrose Harbor on 8/11. This is only for virtual runners.
Awards
Awards will be given to the top three overall male and female finishers as well as the top three runners in each age group, by gender in the 5K RUN ONLY. (1-10, 11-14, 15-19, 20-24, 25-29, 30-34, 35-39, 40-44, 45-49, 50-54, 55-59, 60-64, 65-69, 70+)
There will be an awards ceremony at 9:30 a.m. for the 5K Run. If you do not stay for the awards ceremony and want your award shipped to you, you must pay a shipping fee. Please look for a post-race email on how to submit for your award.
Awards are for the 5K RUN ONLY. The walk will not receive age group awards. But both races will receive a finisher medal.
Start & Finish Line
Start and Finish Lines will be on the paths at Montrose Harbor. 
Timing & Race Bibs
Stan's Donuts 5k RUN is an officially timed event using the disposable B-Tag timing system. Timing chips are attached directly to the back of your bib number and are to remain adhered for the duration of the event. In order to receive an accurate time, please confirm your bib is...
Clearly visible on the front of the torso
Unaltered and unmodified (Do not fold or wrinkle)
Pinned in all four corners
Not covered (jackets, runner belts, water bottles, etc.)
Results will be posted on-site, as soon as possible following the event and official results will be posted on the results page within 24 hours.
IMPORTANT: The walk will NOT be timed. The kids dash will NOT be timed. If you would like to be timed please sign up for the run.
Strollers, Walkers & Dogs
Strollers are allowed but must start in the back of the pack.
The 5k is a Run/Walk so walkers are welcomed.
While we love your fur babies, unfortunately, animals are NOT allowed.
Gear Check
Gear Check will be available at Montrose Harbor for all participants at the race starting at 6:30 AM. Please use the provided tear off on your race bib to use when you check your personal items. We are not responsible for any lost items.

Any gear not picked up by 10:30 AM on race day will be transported to our main office at 345 N Eric Dr, Palatine, IL. Items not claimed within 30 days will be donated to a local charity.
Parking
Parking will be available for free along the streets, but are first come, first serve. There is a parking lot across the street from Montrose Harbor where you can park at a small fee per hour. 
We encourage the use of carpooling, Uber, Lyft, and public transportation. 
Refund Policy
Since Stan's Donuts 5K & Kids Dash has many upfront costs, we have a strict and uniform policy of no refunds, no person-to-person transfer, or no deferrals to a future year. We do understand that plans change, injuries happen, and various situations arise, but, we feel it is most fair to apply a uniform policy to all, instead of a subjective line of who should receive a refund and who doesn't. All purchases and sales are 100% final, no exceptions. Refunds will not be issued based on weather conditions. We appreciate your understanding in this matter.
More Information
If you have any questions or concerns please contact us at TBD.